*Disclosure: I received a #TLCVoxBox complimentary from Influenster for testing purposes. However, I was not influenced in any way and all opinions expressed are my own.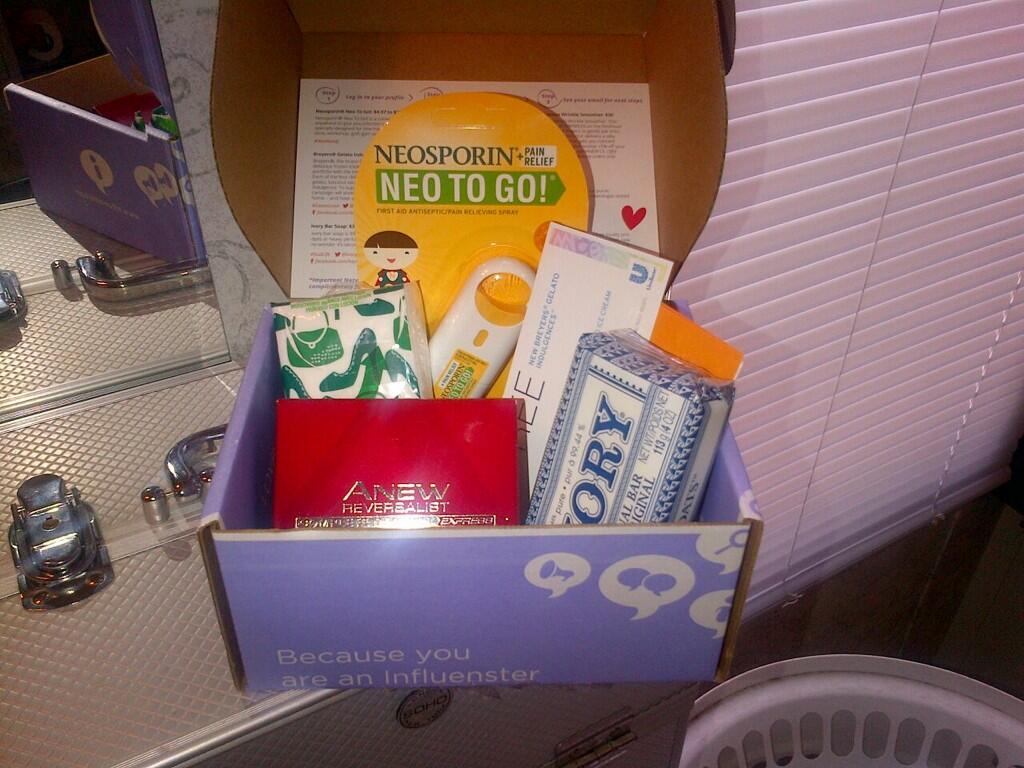 The most recent VoxBox that I received from
Influenster
was the T.L.C. VoxBox (because I'm a mom of the Influenster Nation). This lovely box contained Neosporin Neo To Go, Ivory Bar Soap, AVON Anew Reversalist Express Wrinkle Smoother, Puffs To Go, a Shell Fuel Rewards Network Card, and a coupon for a free Breyers Gelato Indulgences.
I'm very familiar with the Ivory brand, especially
Ivory Bar Soap
. Ivory products are specially formulated not to be specially formulated. Ivory Bar Soap is 99.44% pure clean and simple and contains no dyes or heavy perfumes. Ivory is recommended by 4 out of 5 moms and I'm one of the moms who recommends it. My son has had eczema since he was a baby and every doctor he has seen about it has recommended he use Ivory Bar Soap. It has always been gentle on his sensitive skin. I have very sensitive and dry skin as well and Ivory Bar Soap has always been gentle on my skin, keeping it moisturized and feeling renewed after showering. Connect with Ivory on Facebook at
www.facebook.com/Ivory
and Twitter at
www.twitter.com/Ivory
.
My family and I already use the Puffs brand in our home. Puffs is dermatologist tested to be gentle. I really love buying products for my family that are dermatologist tested/recommended because we seem to have so many sensitivities and allergies. Puffs is a brand we love and trust.
Puffs To Go
can go wherever we go and can be conveniently kept in our car, my purse, or even in the saddlebag on our motorcycle and they never take up much room and are always easy to find. Puffs is the softest, most gentle tissue we have tried and it's the only brand you'll find in my home. Connect with Puffs on Facebook at
www.facebook.com/puffs
and Twitter at
www.twitter.com/Puffs
.
I already have a
Shell Fuel Rewards Network Card
and have been a member of the Fuel Rewards Network program at Shell since July of 2012. The Fuel Rewards Network program is a free loyalty program that helps you save money on fuel. To be honest with you, I rarely ever use my fuel rewards card because I rarely buy my gas at Shell. I shop for most of my groceries at Kroger and I usually just get gas there and use my Kroger Plus Card to save me money at the pump. However, my reward card did happen to come in handy recently when we were heading back home from vacation and had to fill up our gas tank for the trip. We chose to fill up at Shell and we were able to save 3 cents per gallon by using our rewards card. The program is easy enough to use and there are several ways you can save money at the pump, including linking your credit or debit card to your account. I'm going to make it a point to use my Shell Fuel Rewards Network Card more often because every penny counts! Connect with Shell on Facebook at
www.facebook.com/shell
and Twitter at
www.twitter.com/shell_us
.
Until receiving this VoxBox, I had never tried any brand of gelato before so I was super excited. I took my free coupon right away to my local Kroger and brought home a Vanilla Caramel
Breyers Gelato Indulgences
. Breyers has been bringing families together to enjoy delicious frozen treats for more than 140 years. Each of the four varieties of Gelato Indulgences features a trio of textures, creamy gelato, luscious sauce and gourmet toppings. Breyers Gelato Indulgences makes for a perfect date night at home. The Vanilla Caramel Gelato features creamy vanilla gelato, luscious caramel sauce and gourmet caramelly curls. I was blown away by how smooth and creamy and tasty this gelato was. It was the perfect blend of gelato and caramel sauce. The caramelly curls added an extra touch of indulgence. Breyers Gelato Indulgences is definitely a tasty treat worth the price every once in a while because we all deserve to be indulged! I also love that the carton it came in was plastic and the lid came off and went back on easily. Connect with Breyers on Facebook at
www.facebook.com/breyers
and Twitter at
www.twitter.com/Breyers
.
AVON is a name that has been around for as long as I can remember. My grandma and my mom both used AVON products. Having just turned 30 with a few lines on my face, I was excited to give AVON's
Anew Reversalist Express Wrinkle Smoother
a try. The Anew Reversalist Express Wrinkle Smoother is a translucent balm that says it will blur the look of wrinkles on the forehead and around the eyes instantly. The cream-to-powder skin perfector says it delivers a silky smooth virtually line-free look for skin. However, I was not very impressed with this particular product from AVON. I didn't notice instant results, or results at all for that matter. It did go on easy and feel silky smooth under my eyes however. I did notice a sort of burning sensation around my eyes area after applying it. This product wasn't for me but you can visit
AVON.com
and receive 15% off your Anew purchase of $50 or more with the code
ANEW15
(offer code valid until 8/1/2014) if you'd like to try it out for yourself. Connect with AVON on Facebook at
www.facebook.com/AVON
and Twitter at
www.twitter.com/AVONInsider
.
As a mom, I've definitely used my share of Neosporin on my son's boo-boos. Even though my son is 14-1/2 years old now, he plays football so he still gets his fair share of cuts and scrapes out on the field, some requiring a little extra attention from mom. I've always been very happy with the Neosporin brand. Luckily, I haven't had to use the
Neosporin Neo To Go
yet but this first aid antiseptic/pain relieving spray is specially designed for one-handed use. This convenient no touch, no sting spray is small enough that it fits anywhere, including my purse, and offers infection protection, plus pain relief, on the go, which means it can travel with me to all of my son's football practices and games.
What products from my T.L.C. VoxBox have you tried or would like to try?